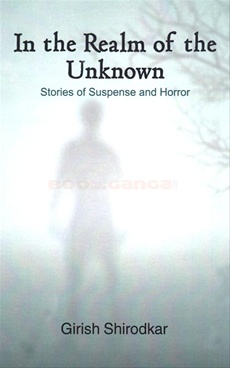 In the Realm of the Unknown
Stories of Suspense and Horror
Author:
Girish Shirodkar

Publication:
APK Publishers

Pages: 202
Weight: 261 Gm
Binding: Paperback
ISBN10: 9381791791
ISBN13: 9789381791790
Hard Copy Price:
25% OFF
R 199
R 149
/ $ 2.13
Shipping charges will be applicable for this book.
For International orders shipment charges at actual.
Buy Print Book
Standard delivery in 2-3 business days | Faster Delivery may be available
Preview
Summary of the Book
The Tree of Terror -
In the darkness of a stormy night, the unseen dwellers of a gulmohar tree attack a college student and his companion during their stay at a college hostel. Although the student, quite dramatically, escapes the deadly blow of the haunters of the dark. his friend is killed.
My Midnight Acquaintance -
Upon receiving a phone call from his father, a college student sets out to his village at midnight. While on the way he meets an old man who invites him to his hut. Strangely enough, the student realizes later that he was called not by his father but the same old man, the purpose being very special.
The Lard Datta Temple -
Girish and his friend, John, one dark night, set out for a stroll. On the way they notice a deserted house and a well. Curious, they cross the fence and peep into the well. The soul of a priest hovering near the well then possesses John, and pursues Girish with the fury of a mad hound.