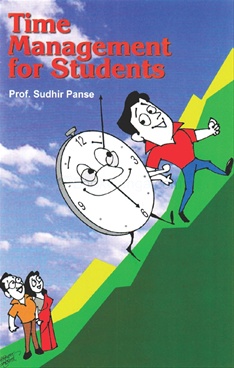 Time Management for Students
Authors:
Prof. Sudhir Panse

Publication:
Panse Publications

Pages: 139
Weight: 150 Gm
Binding: Paperback
Hard Copy Price:
25% OFF
R 150
R 112
/ $ 1.60
Shipping charges will be applicable for this book.
For International orders shipment charges at actual.
Buy Print Book
eBook Price: 20% OFF R 150 R 120 / $ 1.71
Standard delivery in 2-3 business days | Faster Delivery may be available
Preview
Summary of the Book
Students today have exciting career opportunities, but face stiff challenges to materialize them. Time management is the key to success. Those who manage time efficiently will get rewards; those who fail to do so, will face disappointments.

Time management does not mean you need to turn into a workaholic. It means efficiently completing your work without stress; and getting more time for other enjoyable and fruitful pursuits. This is a 'work-book'. It is to be put into practice. It explains simple and effective techniques, and offers practical tips for time management. Topics include, 'efficient methods of studies', 'improving memory', 'speed reading' 'taking notes in class' 'time management during examinations'.

But apart from a work-book, it is also a highly motivating book. It explains how the practice of time management will not only help students in the immediate context of their studies and examinations, but will also help and enrich them in later life.
The deep but practical insights on time management developed by the author from his long and extraordinarily varied teaching experience are succinctly encapsulated and lucidly explained in this remarkable book.

A book that every student must possess and read frequently to ensure success, now and in future.