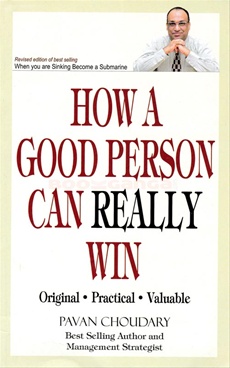 How a Good Person can Really Win
Author:
Pavan Choudary

Publication:
Wisdom Village Publications

Pages: 240
Weight: 272 Gm
Binding: Paperback
ISBN13: 9789380710457
Hard Copy Price:
25% OFF
R 195
R 146
/ $ 2.09
Shipping charges will be applicable for this book.
For International orders shipment charges at actual.
Buy Print Book
Standard delivery in 2-3 business days | Faster Delivery may be available
Preview
Summary of the Book
Real-world research shows that the good person often loses to the immoral person, and the three main reasons for this are:
• He cannot comprehend how the immoral man thinks, works or makes his moves.
• He lacks battle skills and doesn't know how to fight back.
• He is often egoistic about his honesty, whereas the immoral man subjugates his ego to greed and teams up with others.
This book strives to initiate the moral man towards:
• Comprehending evil moves,
• Executing powerful antidotes,
• Converting his virtues into competitive tools and building powerful collaborations with men like himself & win decisively.
Free of platitudes & unproven recommendations, How a Good Person can Really Win is backed by extensive research, and can lead men to victory in the real world. It has relevance to all walks of life.
Superb book! Its like gaining wisdom from hundreds of books!so deep yet so practical.
Anandita
07 Nov 2013 05 30 AM
An original book, with practical real life insights. Just read the author is chairman CII and invited by top hospital chain to address its top management on growing while it is slowing. Not surprised at all!!!! he is a great thinker.