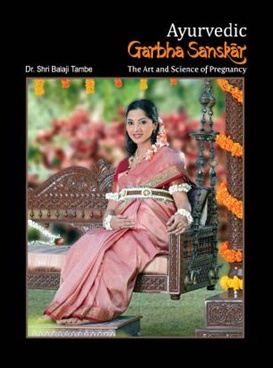 Ayurvedic GarbhaSanskar (English)
The Art And Science Of Pregnancy
Author:
Dr. Balaji Tambe

Publication:
Sakal Prakashan

,
Balaji Tambe Foundation

Pages: 288
Weight: 1500 Gm
Binding: Hard Cover
ISBN13: 9789380571850
Hard Copy Price:
10% OFF
R 990
R 891
/ $ 12.73
Shipping charges will be applicable for this book.
For International orders shipment charges at actual.
Buy Print Book
Standard delivery in 2-3 business days | Faster Delivery may be available
Preview
Summary of the Book
Everything you need to know from the time you plan to have your baby, through pregnancy and delivery, and up until your child is two years old. The ancient scriptures and Ayurveda prescribe a particular daily practice for the pregnant woman. Along with the prescription of diet, Yoga, and routine body care, instructions are also given for reading material, subjects of discussion, and music and mantras to be listened to. Garbha Sanskar is an ayurvedic way to achieve feminine balance. The book will help the woman to achieve a perfect balance to conceive and give birth to a healthy, beautiful and intellectual child. It is a complete guide on Nutrition, Yoga, Spiritual life and Wellness before pregnancy and till the child is 2-3 yrs.

some keynote points :

-Traditional Indian Sanskar and therapies.
-Planning for a healthy child and preparing for pregnancy.
-Ayurvedic concepts and medical formulations for pregnancy.
-The importance of Healing Music.
-Yoga during and after Pregnancy.
-Diet before, during and after pregnancy.
-Daily practices that can help your baby in the womb.
-Complete child care.
-Natural diet and therapy that helps you regain your shape after delivery.

Key selling points :

The book is trusted and has benefited lacs of mothers and their child. The Marathi edition launched in 2007 has sold more than 120,000 copies and has been passed to millions. The book is used for gifting by many; it has become a perfect gift for the good values and good health delivered by the book to the expecting mother and to the child. It has become the best way to express andconvey love and blessings to the family members and friends expecting a child.
This book is very very useful. but it can not be used by those non marathi indians who do not know english. So there should be a hindi version of this.