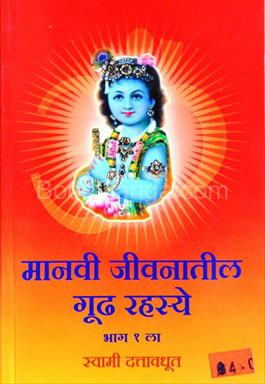 मानवी जीवनातील गूढ रहस्ये - भाग १ ला
Author:
स्वामी दत्तावधूत

Publication:
वनिता बुक्स

Pages: 128
Weight: 110 Gm
Binding: Paperback
Hard Copy Price:
R 130
/ $ 1.67
Shipping charges will be applicable for this book.
For International orders shipment charges at actual.
Buy Print Book
Standard delivery in 2-3 business days | Faster Delivery may be available
Vikas Kshemakalyani
26/10/2017
I came across this excellent book on spirituality during my search of enlightening and informative books mostly in simple terms on spirituality in the year 2006 at Nashik, I immediately purchased this book, read it thoroughly, I found this book very interesting, very touching, very informative in respect of spiritual aspect of human life, the author has made the spirituality to understand in a very simple marathi language. The author has been successful in fathoming the depth of spiritual aspect of human life in all the seven books in marathi language written by him. I would strongly recommend somebody to please come forward to translate all these books written by this author Swami Dattawdhut in other indian languages like Hindi, Gujatathi, Bangla, Punjabi, Tamil, Malayalam, Telugu, Odiya, Kannada, and in English also so that all the humanity aross the world may be able to understand how the spirituality could be fathomed in simple language. These books are definitely sure to change our view toward life.
RAVINDRA WANKHEDKAR
13/10/2014
wonderfull information
Sanchita Chavan
27/10/2012
Its really good books. This book gives advice for How to live in life.
Jitendra Patil
15/12/2010
Jivanat parivartan aananyas, vichar v kruti karanyas pravrutta karanare 1 te 7 granth.