Home
>
Books
>
Health
>
Cancer, Heart Disease And Diabetes Prevention And Treatment In Ayurvedic Perspective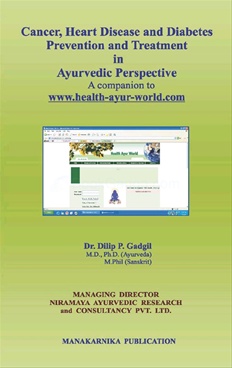 Cancer, Heart Disease And Diabetes Prevention And Treatment In Ayurvedic Perspective
A Companion To www.health-ayur-world.com
Authors:
Dr. Dilip P. Gadgil

Publication:
Manakarnika Publication

Pages: 127
Weight: 280 Gm
Binding: Hard Cover
Hard Copy Price:
25% OFF
R 225
R 168
/ $ 2.40
Shipping charges will be applicable for this book.
For International orders shipment charges at actual.
Buy Print Book
eBook Price: 56% OFF R 225 R 100 / $ 1.43
Standard delivery in 2-3 business days | Faster Delivery may be available
Preview
Summary of the Book
Dr. Gadgil provides a personal perspective by looking at
cancer, diabetes and heart disease from an 'Ayurvedic' lens. It is a
viewpoint that is certainly worth discussing and debating by using a
wider platform of scholars with open minds.