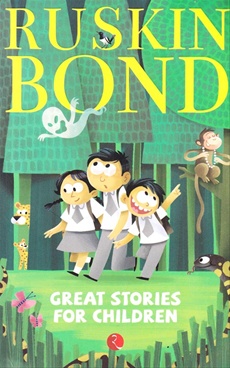 Great Stories for Children
Author:
Ruskin Bond

Publication:
Rupa

Pages: 194
Weight: 144 Gm
Binding: Paperback
ISBN13: 9788129118929
Hard Copy Price:
25% OFF
R 195
R 146
/ $ 1.87
Shipping charges will be applicable for this book.
For International orders shipment charges at actual.
Buy Print Book
Standard delivery in 2-3 business days | Faster Delivery may be available
Summary of the Book
Great Stories for Children is a potpourri of short stories that effectively transports the reader to the fascinating world of its endearing characters. The ensemble includes Tutu the monkey who is fond of troubling the no-nonsense Aunt Ruby, a pet python who makes sudden appearances at the most unusual places, a troublesome Pret who enjoys stirring up the household he resides in, three young children stranded on the Haunted Hill, Himalayan bears who feast on pumpkins, plums and apricots, a crafty thief who has a change of heart, and Ruskin Bond himself who meets a ghost at a resort in the middle of the night ...