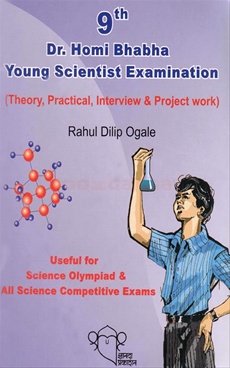 Dr. Homi Bhabha Young Scientist Examination For 9th std.
For 9th std.
Author:
Rahul Dilip Ogale

Publication:
Dnyanda Prakashan

Pages: 288
Weight: 375 Gm
Binding: Paperback
Hard Copy Price:
10% OFF
R 420
R 378
/ $ 4.85
Shipping charges will be applicable for this book.
For International orders shipment charges at actual.
Buy Print Book
Standard delivery in 2-3 business days | Faster Delivery may be available
Preview
Summary of the Book
Dr. Homi Bhabha young Scientist Examination

Science Olympiyad
Hiral limdi
08 Feb 2018 05 30 AM
Book is full of information n deep knowledge of science concepts. Author Mr. RAHUL OLAGE WAS VERY SUPPORTIVE. My son started preparing for exams from the book he found it very useful n even he was able to give answers his class teacher in the class. His understanding have grown better after reading this book. Would like to recommend parents to buy this book for their kids even though not appearing for Homibhabha exams.
Prasad patil
08 Oct 2014 05 30 AM
This book is awesome....I ordered on 6 august 2014 and got it on 9 august 2014....the book was in very neat condition and no harm was made to the condition of the book...I ordered it to nashik and got the book shipped by first flight