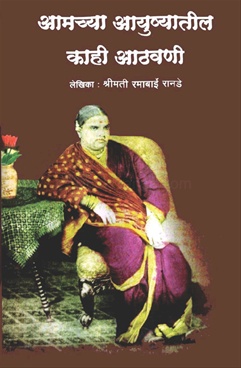 आमच्या आयुष्यातील काही आठवणी
Author:
रमाबाई रानडे

Publication:
Varada Prakashan

Pages: 272
Weight: 284 Gm
Binding: Paperback
Hard Copy Price:
25% OFF
R 300
R 225
/ $ 3.21
Shipping charges will be applicable for this book.
For International orders shipment charges at actual.
Buy Print Book
eBook Price: 33% OFF R 300 R 200 / $ 2.86
Standard delivery in 2-3 business days | Faster Delivery may be available
Preview
Summary of the Book
न्यायमूर्ती रानडे हे एकोणिसाव्या शतकातील अनेक चळवळीचे आधारस्तंभ होते. स्वातंत्र्य चळवळीबरोबरच सामाजिक, राजकीय, धार्मिक, नैतिक, औद्योगिक, शिक्षणविषयक विचारही ते करीत असत. निर्भीड न्यायमूर्ती म्हणून त्यांची ख्याती होती. त्या काळातील कर्मठपणाला त्यांनी कधी थारा दिला नाही. म्हणून तर, घरच्यांचा विरोध पत्करून त्यांनी पत्नी रमाबाईंना लिहायाला, वाचायला शिकवले. रमाबाई रानडे या न्यायमूर्ती रानडे यांच्या फक्त पत्नीच नव्हत्या तर त्यांच्या छाया होत्या. त्यांनी स्वतंत्रपणे लिहीलेले ' आमच्या आयुष्यातील काही आठवणी' हे आत्मचरित्र वाचताना रमाबाई यांचे व्यक्तिमत्त्व किती प्रभावी होते हे लक्षात येते. आपल्याला घडविणाऱ्या पतीचे गुणगान त्यांनी यात केले आहे . रानड्यांचा पुर्वेइतिहस , न्यायमूर्तींचे सार्वजनिक कार्य, याविषयी लेखन केले आहे. मुख्य भर आहे, तो त्यांच्या कौटुंबिक आठवणींवर. पत्नीने पत्तीबद्दल लिहिलेल्या या ग्रंथात न्यायमुर्तींचा स्वभाव , आयुष्यक्रम वाचायला मिळतो. या दोघांच्या आठवणीतून त्यांचे श्रेष्ठत्त्व अधोरेखित होते.
'आमच्या आयुष्यातील काही आठवणी' या पुस्तकाचा 'बाइट्स ऑफ इंडिया'वरील परिचय वाचण्यासाठी पुढील लिंकवर क्लिक करा...
http://www.bytesofindia.com/Details/?NewsId=5054400314039471279
Prachi
04 Sep 2021 05 30 AM
Good
Very pathetic service by courier agency, refused door step delivery. When I raised complaint about this issue, the bookganga staff handled/tackled the issue with irresponsible and pathetic manner. Worst service.
Viraj M Naik
03 Mar 2015 05 30 AM
Inpirable
Mrs Shruti Swapnil Ayyangar
28/08/2013
I love the serial unch maza zoka , its great serial , I also encourage by this serial , that I can also give some contribute of my life to poor women , poor child which are not able to go to school , I have son he is one year old , but I feel from inside to adopt a girl as my daughter. In my life my mom had done the role of Ramabai Ranade , bez we are 3 sister we don't have brother , in my family say to my mom why u are sending your daughters in the school , no need to send bez they are going to other home , she had given as a good education , in good school which is English medium she against to my dad and the entire family she worked hard in day and night . I proud that I am her daughter
dhananjay Suryawanshi
19/06/2013
Atishay sundar pustak aahe, Must read all female & yong gemeration
Mayuresh Deshmukh
13/12/2012
farach chan ho. Ramabain chi vichar shaili kharach avishvasaniy hoti .
mandavi barway
21/09/2012
i liked the book because it brought all charaters of " unch mazha zhoka " in front of my eyes.
Shubhankar Karande
06 Aug 2012 05 30 AM
Nice book!!
Excellent autobiography. Everyone must read.
CHINTAMANI MHAISKAR
04 Apr 2012 05 30 AM
I WANT TO PURCHASE THIS BOOK
i like plz music releted book