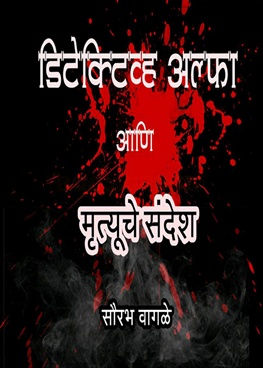 डिटेक्टिव्ह अल्फा आणि मृत्यूचे संदेश
Authors:
सौरभ गणेश वागळे

Publication:
बुकगंगा पब्लिकेशन्स

Binding: Paperback
Share This Link:
https://www.bookganga.com/R/7WPJS
eBook Price: R 80 / $ 1.14
Standard delivery in 2-3 business days | Faster Delivery may be available
requesting u to publish this book on esahity.com. thank u
Tejaswinee Jagtap
26/03/2019
Hey Saurabh, kindly please publish this book on e.sahitya. I m eagerly waiting to know the climax of the story. Please upload it as soon as possible.
requesting u to publish it on esahitya.com
Priyanka Daddekar
09/11/2018
Like all your books, this Book i.e. Detective Alpha ani Mrutuche Sandesh is really awesome.. I would like to categorize this in" Must have to read Book" . Its rare combination of love, friendship ,fear and endless Mystery.. Amazing writing once again done by Mr. Sourabh .. Thanks for giving valuable enjoyment while reading this Book.. Waiting for next creativity..
Can you please publish it on esahitya..??
Your all books are amazing . I read this one also .
Neha Chaudhary
13/10/2018
I read all the eBooks of detective alpha and the whole series is just amazing. I want to read this as well, can't you please upload it on esahitya.com?