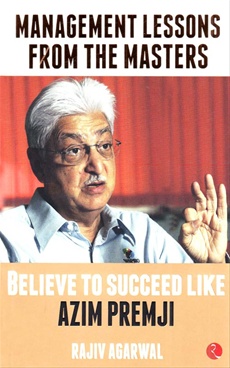 Believe To Succeed Like Azim Premji
Authors:
Rajiv Agarwal

Publication:
Rupa & Co.

Pages: 113
Weight: 100 Gm
Binding: Paperback
Hard Copy Price:
25% OFF
R 295
R 221
/ $ 3.16
Shipping charges will be applicable for this book.
For International orders shipment charges at actual.
Buy Print Book
Standard delivery in 2-3 business days | Faster Delivery may be available
Preview
Summary of the Book
To decode success, one must borrow a leaf from an accomplished life. In this book, author Rajiv Agarwal, also a management professor and family business consultant, shows the strategies used by the czar of the Indian IT industry, Azim Premji, to chart his route for success.
In the fourth book in the series, Management Lessons from the Master, Agarwal analyes various moves and decisions made by premji before he become the face of corporate philanthropy. It shares an insight into vision and principles of a man who started his enterpreneurial journey with a small vegitable oil company at the young age of 21 and went on to build Wipro, one of India;s leading IT organizations.
In this authoritative and compelling account, the author shows how Premji, the founder and chairman of Wipro, fearlessly diversified the organization into varied industries ( FMCG, IT services and inrastructure engineering ). Beside, Premji also inspired enterpreneurs around the world to generously donate large parts of there wealth. Today, his endowment of $ 21 billion is among the top five endowments in the world .
A must-read for aspiring leaders as well as students, this book shows how wealth can be used to impact the lives of many, not just stakeholders of a business.