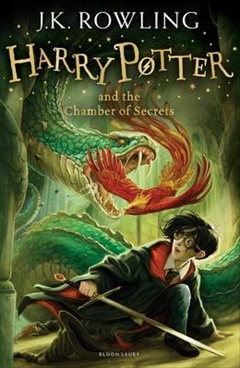 Harry Potter And The Chamber Of Secrets
Authors:
J. K. Rowling

Publication:
Bloomsbury India

Pages: 384
Weight: 310 Gm
Binding: Paperback
ISBN10: 1408855666
ISBN13: 9781408855669
Hard Copy Price:
10% OFF
R 499
R 449 / $ 6.41
FREE Delivery in Maharashtra on orders over ₹499.00
For International orders shipment charges at actual.
Buy Book
Standard delivery in 2-3 business days | Faster Delivery may be available
Preview
Summary of the Book
Harry Potter can't wait for his holidays with the dire Dursleys to end. But a small, self-punishing house-elf warns Harry of mortal danger awaiting him at Hogwarts. Returning to the castle nevertheless, Harry hears a rumour about a Chamber of Secrets, holding unknown horrors for wizards of Muggle parentage.

Now someone is casting spells that turn people to stone, and a terrible warning is found painted on the wall. The chief suspect – always in the wrong place – is Harry. But something much more terrifying has yet to be unleashed.