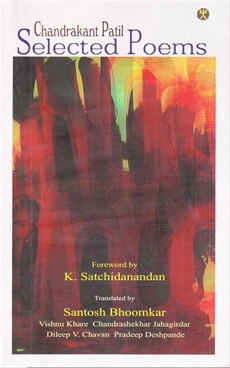 Chandrakant Patil Selected Poems
Author:
Chandrakant Patil

Translators:
Santosh Bhoomkar

Publication:
Aarsh Publications

Pages: 240
Binding: Paperback
ISBN13: 9788193983065
Hard Copy Price:
25% OFF
R 300
R 225
/ $ 3.21
Shipping charges will be applicable for this book.
For International orders shipment charges at actual.
Buy Print Book
Standard delivery in 2-3 business days | Faster Delivery may be available
Preview
Summary of the Book
Selected Poems of Chandrakant Patil in English translation by various translators presents an impressive sampling of the poet's penetrating poems on a myriad of themes. Even when translated into English, a Language that has no familial realationship with Marathi, the pungency of the poems sears through. One can then imagine how powerful they must be in the original. Irony and pathos, metaphor and metonymy serve as vehicles of Patil's inquisitive faculty, guided strongly by a rational mind yet completely in the embrace of an enamoured muse. For the non-Marathi reader, patil's poems would indeed be a striking discovery, like a seafaring captain spots a new strand of land.
Chandrakant Patil has long been a towering presence in the sathottari period in both the Marathi and the Hindi world of writing. He is one of the most significant critical voices in the two litratures, an editor, a critic, a translator but most improtantly a poet in Marathi and Hindi. His work instanties the multilingual richness of his Marathwada roots which he has consistently tended in his poetry and in his many tranlation. This book of translation of Chandrakant patil's own poery brings into the reading world of English reders a notable part of his lifework, which is the poetry in Marathi.As the first such attempt to locate the lifelong poetic career of Chandrakant Patil in translation, this book is invaluable to readers of modern Marathi and English poetry.