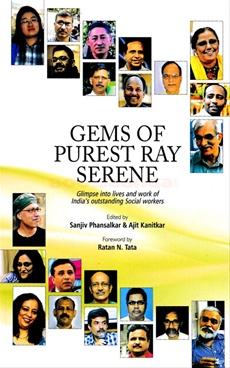 Gems Of Purest Ray Serene
Publication:
Samakalin Prakashan

Pages: 256
Weight: 300 Gm
Binding: Paperback
ISBN13: 9789386622372
Hard Copy Price:
15% OFF
R 500
R 425 / $ 6.07
FREE Delivery in Maharashtra on orders over ₹499.00
For International orders shipment charges at actual.
Buy Book
Standard delivery in 2-3 business days | Faster Delivery may be available
Preview
Summary of the Book
Gems of Purest Ray Serene is a book about the life stories of twenty-two outstanding Indian social workers. Foregoing lucrative careers, each of them has taken a less travelled path, making a positive impact in the lives of hitherto forgotten and invisible people. The stories narrate their aspirations, struggles, determination and perseverance in overcoming challenges while towards their goal.