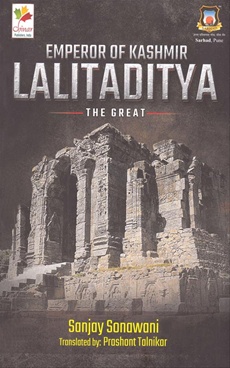 Emperor Of Kashmir Lalitaditya
एम्परोर ऑफ काश्मीर ललितादित्य
Authors:
Sanjay Sonawani

Publication:
Chinar Publishers

Pages: 262
Binding: Paperback
ISBN13: 9788193243091
Hard Copy Price:
25% OFF
R 500
R 375
/ $ 5.36
Shipping charges will be applicable for this book.
For International orders shipment charges at actual.
Buy Print Book
Standard delivery in 2-3 business days | Faster Delivery may be available
Preview
Summary of the Book
He built the largest empire after Ashoka. He constructed massive edifices which defy the vagaries of time and stand out even today. He drove away the Arabs from northwesern India and conquered the far out 'Tokharistan (North Hindukush). He controlled the international trade routes from Tokharistan to China by repeatedly defeating the then powerful Tibet. He checkmated China with his diplomacy. He routed the great Yashovarman of Kanauj andestablished own rule in half of India. And yet the history. quite ungratefully, ignored him.
He is the eighth century Emperor of Kashmir Lalitaditya Muktapida.
Renowned author and historian Sanjay Sonawani brings to lightthe life and times of the exemplary kingof Kashmir after a painstaking research. The book adds one more feather in the cap of Sarhad and Chinar Publishers in their relentless efforts for people to people bonding with Kashmir.