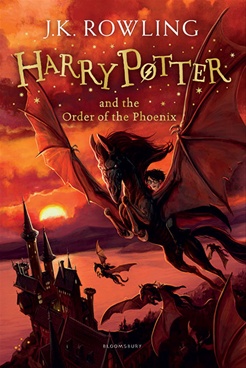 Harry Potter And The Order Of The Phoenix
Authors:
J. K. Rowling

Publication:
Bloomsbury India

Pages: 816
Weight: 825 Gm
Binding: Paperback
ISBN10: 1408855690
ISBN13: 9781408855690
Hard Copy Price:
25% OFF
R 799
R 599
/ $ 8.56
Shipping charges will be applicable for this book.
For International orders shipment charges at actual.
Buy Print Book
Standard delivery in 2-3 business days | Faster Delivery may be available
Summary of the Book
Harry Potter is furious that he is stuck at the Dursleys' house for the summer, when he suspects that Voldemort is gathering an army, and the wizarding authorities seem unwilling to do anything. Harry's so-called friends are trying to keep him in the dark.

But he knows that Voldemort's forces can find him wherever he is; he could be attacked at any moment. Harry is finally rescued from Privet Drive by members of the Order of the Phoenix – a secret society first formed years ago to fight Voldemort – and discovers that maybe he is not alone in this battle after all.