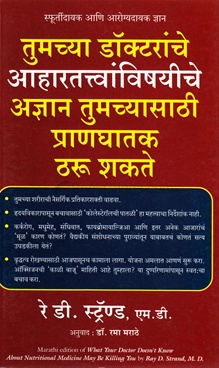 तुमच्या डॉक्टरांचे आहारतत्त्वांविषयीचे अज्ञान तुमच्यासाठी प्राणघातक ठरू शकते
WHAT YOUR DOCTOR DOESNT KNOW ABOUT NUTRITIONAL MEDICINE MAYBE KILLING YOU (Marathi)
Authors:
रे डी. स्ट्रेंड

Translators:
डॉ. रमा मराठे

Publication:
मंजुल पब्लिशिंग हाउस

Pages: 277
Weight: 230 Gm
Binding: Paperback
ISBN13: 9788183222907
Hard Copy Price:
10% OFF
R 250
R 225 / $ 3.21
FREE Delivery in Maharashtra on orders over ₹499.00
For International orders shipment charges at actual.
Buy Book
Standard delivery in 2-3 business days | Faster Delivery may be available
Preview
Summary of the Book
This is the Marathi edition of international bestseller - WHAT YOUR DOCTOR DOESNT KNOW ABOUT NUTRITIONAL MEDICINE MAY BE KILLING YOU by Dr. Ray D Strand. In this book Dr. Strand illuminates the damaging effects of oxidative stress on human body. His thorough research in the field of Nutritional Medicine, will equip you to protect or reclaim your nutritional health, possibly reversing the disease and preventing illness by using nutritional supplements.