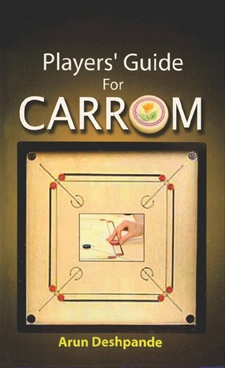 Players' Guide For Carrom
Authors:
Arun Deshpande

Publication:
Majestic Prakashan

Pages: 112
Weight: 152 Gm
Binding: Paperback
Hard Copy Price:
R 100 / $ 1.43
FREE Delivery in Maharashtra on orders over ₹499.00
For International orders shipment charges at actual.
Buy Book
eBook Price: R 100 / $ 1.43
Standard delivery in 2-3 business days | Faster Delivery may be available
Preview
Summary of the Book
This is one of the most informative book on carrom. It contains many more topics which were not discussed in earlier book about Carrom Technique and skill. It will give more knowledge of the game to regular players and champions and will open a door for them to prepare for the match. The author has pointed out many more things out of carrom which are very important to win matches.
how can i buy this book? please,, i need it so much
This book is excellent, but I expected a PDF copy of book so that I can print it and read. But here in this Bookganga reader, there is no print option available. What a pity. They charged me Rs 100/- for this thing?? Friends please tell me if at all I can print this one for my personal use.
Nilakantha Sahu
07/05/2013
Feel happy to have the e-book version after waiting so long to complete my collection of Arun Sir's 2 books. These are awesome and buying e-book is more fun as no need to wait for the delivery. Only have to download the e-book reader available for free in the website and no need to be connected always with internet to read once I complete the download of my purchase to the e-book reader. It could tame a long time and effort if one try to achieve these skills on his own but having all these with minimum effort is not only time and effort saving but if right amount of effort for practice is given then it could be a dramatic change in one's carrom play within a short span of time.
i have to bye books on carrom, your publication have these two books, how can i buy